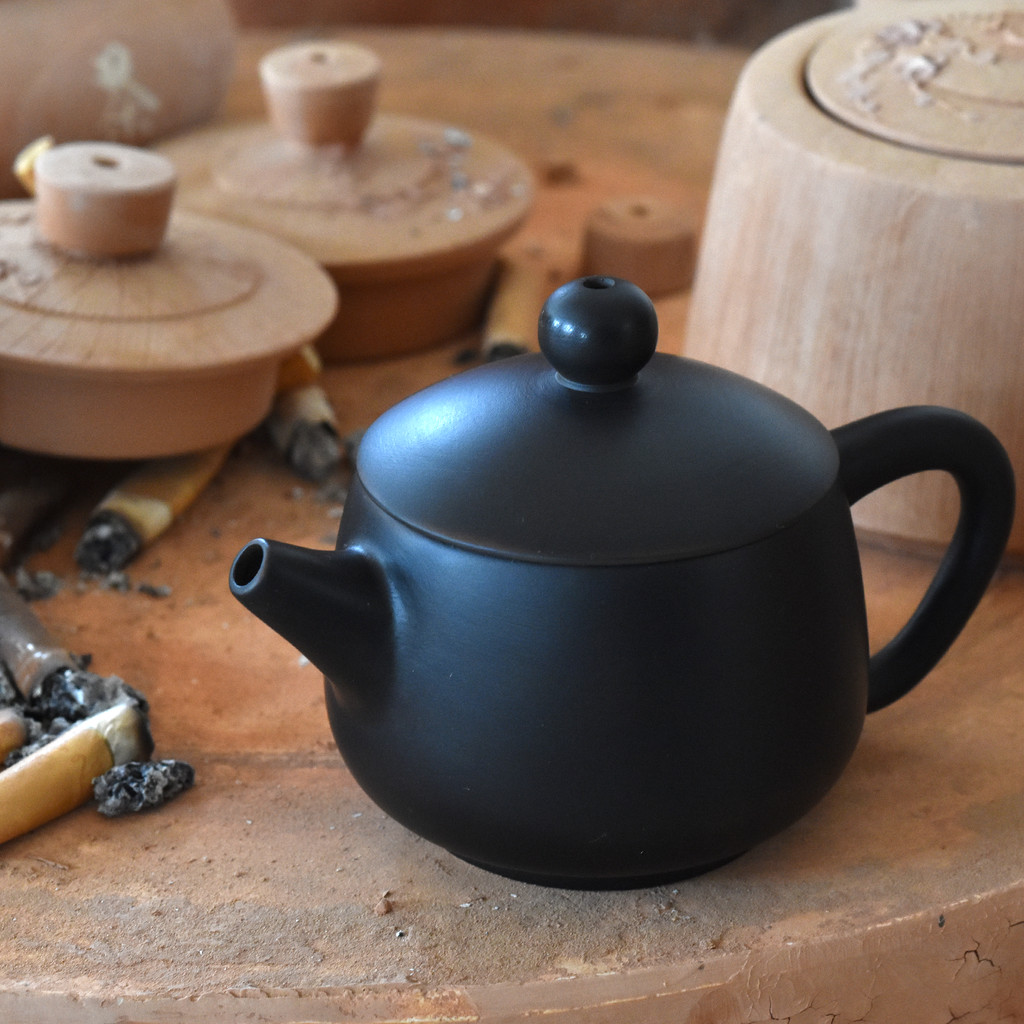 Black Jianshui Zitao Teapot - Tall Shi Piao Style ~90ml
$ 79.99
This is a true tea lovers teapot. We worked hard this last year with a pottery studio in Jianshui to improve the efficiency of their techniques to allow us to sell quality Jianshui at an affordable price. This teapot is a result of that collaboration.
Jianshui teapots are amazing to brew with. We believe the quality of the clay speaks for itself. Our hope is that as many people as possible have the opportunity to purchase these teapots and brew their tea with them. These are simple, efficient teapots made to be tea brewing workhorses. 
These are each handmade by a group of artists who work together. They are single fired and unglazed. This is a true clay which lacks any sand. The natural minerals in the clay will enhance the flavor of your tea. Jianshui is in Yunnan, and the clay used in these teapots comes from the same mountains that grow puerh tea trees. We appreciate that connection. We blogged about this unique town here.
Since these are handmade products each are unique. There are slight variations to each. They're not perfect pots but will be perfect for your tea. The lids fit and they seal well. They pour fast and easy. They are ready to go!
The volume is an approximation. The volume of the teapot you receive may be 10% more or less. It will be pretty close! It's the perfect size for solo brewing or with a friend.
This teapot is polished, smoked black, Jianshui clay and is in a 'Tall Shi Piao' style.
These are tiny teapots that will easily sit in a single hand. They measure on average 10cm from tip of spout to end of handle and are around 7cm tall.
You can purchase a hard box and embroidered bag for $10USD additional.
The teapots were given a final polish using olive oil to make them shine. We removed as much as we could. Give them a boiling water wash when you get them and then dry with a rag if they still feel a little oily.
Check out our video series from Jianshui:
This item ships from China!
This will be shipped from China. We can ship to most countries but the rates can vary greatly.
If your country is not available at checkout please email us and we will quote you a shipping rate. crimsonlotustea@gmail.com
Shipping is averaging about a month, but sometimes it can take longer! If you purchase multiple items from our Seattle and Kunming inventories this will ship separately from China.
If you are in the U.S. please take a look at our inventory in Seattle if you need something to arrive quickly.
Please refer to our Shipping Policy page for more information.